Last week, I visited the nude beach at Hanlan's Point with my friend Dave, visiting from Rochester. I kind of casually asked my buddy P-Doug if he wanted to go down there this weekend just past, and to my surprise, he did. We made plans for Saturday morning, but when I noticed (thanks to an NOAA java applet P-Doug sent me) that Lake Ontario was actually at his warmest about 9 PM, and that that would let us take some fantastic sunset shots to boot, he agreed we should head down in the evening instead. As it turned out, Saturday had lousy weather, so we postponed to Sunday evening.
Winner 2005 Worst Poster Design
We parked downtown at a cheap lot P-Doug knows and took the subway the rest of the way to Union Station. Opposite us was this TTC poster about new buses, that someone had deemed "Winner 2005 Worst Poster Design". If you agree, you can (according to the sticker) register your accord at
i_hate_this_ad_too@hotmail.com
.
City from the water

City from the boat
We caught the ferry at the terminal just as it was heading out. Actually, our timing was split-second and impeccible the whole evening, though we were forever under the gun. These are a couple of shots looking back at the downtown as we departed. Most notable are Skydome and the CN Tower.
Approaching Hanlan's Point

I'm right behind you, Ned
About the first thing you encounter on arriving at Hanlan's Point on Centre Island is the statue of Edward "Ned" Hanlan himself. He was a champion sculler of of the 19th Century, possibly the greatest ever. He was born, lived, and died in Toronto, and was, for a time, one of its aldermen. His family lived on the island roundabout the point that subsequently carries their name.
The Dream Shot
Last time I went to the nude beach, neither Dave nor I had our cameras. On our way back, we both stopped simultaneously and spontaneously at this spot, struck by the framing of the CN Tower in the trees. I swore that the next time I made it back, I'd take this shot, and here it is.
Wow, they're naked!

They're still naked
When we arrived at the beach, it was about 6:30 PM or so. There were two or three dozen sunbathers still down there, but their numbers thinned out relatively quickly. I stripped immediately, took a couple of shots, and then made a beeline for the water. It was far warmer this time than it was last, when Dave could not bring himself to indulge. At some points between the shore and the first sandbar, it literally felt like a lukewarm bath. It was absolutely wonderful.
Dog day ending
Goodnight, sun
Silver sunset #1

Silver sunset #2
...Breathes an air of gathering gloom...

Seeing as we both had cameras, P-Doug and I took turns splashing around and sitting with our belongings. During one of my swims, the sun really began to set. I came in, and we photographed a really beautiful sunset over Mississauga to the west. P-Doug headed back into the water while I stayed ashore and experimented with some moody black and white shots. For all of these, I attached P-Doug's polarizing filter to my lens. It really brought out the contrast in the sky. I'm really pleased with these shots.
Caught in flight
At one point, a large flock of seagulls passed around me, wheeling and cutting through the air. I did my best to follow their motion, and was rewarded with a couple of nice shots of the birds in flight. This is my favourite of the bunch.
The Cruel Sea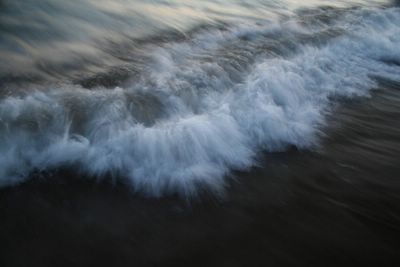 Rush
While P-Doug was swimming around, I decided to take a risk with my new camera and waded out about waist deep. I wanted to get some really dramatic water shots. I got some really nice stuff, but ironically, the shots I like best were ones I took right at the water's edge.
Garbed in an anklet — as a hedge against nudity
The lone primate in his natural state... as much as I'm willing to inflict upon you, at any rate. Probably more than you wanted to see as it is. :)
The Edge of Night
The first ferry back after the sunset was at 9 PM, so that was our target. Since neither of us was actually wearing a watch most of the time, we had no firm idea of the time. At one point when there were only about a half-dozen others left on the beach, I chanced our stuff being stolen and went in to join P-Doug in the water. When I asked, he reckoned the time to be about 8:20. About ten minutes later we went ashore, only to find it was actually 8:45. We dressed and really hustled to catch the ferry, making the trek in a mere ten minutes. Both in keeping with my habits this summer and to speed the journey, I went barefoot. P-Doug was concerned for me, since the path is asphalt, but I've taken several four-mile walks on streets and sidewalks to the East Don Parklands this summer, so this was nothing to me. Besides, I could never have run the last hundred yards or so in my sandals; they have no ankle bracing. We made the ferry with just moments to spare, and I spent my time at the bow, photographing the city. I was taking shots at 1/5 of a second at ISO 800. Most of them are shaky and worthless, but this one came out spectacularly, I think. It reminded me of the title card to the old soap opera
The Edge of Night
, so that's what I've called it. I think the purple-lit rim of the Skydome is what really makes the shot.