The Royal Ontario Museum's in the midst of going after the crown for Canada's ugliest public building, currently held by
Mississauga's city hall
. They're building a new wing on that's supposed to resemble a crystal when it's finished, but which looks to me, and most people I've talked to, like something that fell down. Here's what it looks like as of a couple of weeks ago...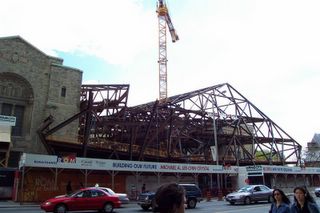 Coming to a subway stop near you: fugly!!!
Supposedly, when it's all finished, it's going to look like
this
. I'm reminded of the scene in
The Blob
when the blob escapes from the movie theatre and oozes around the side of the building, partially engulfing it. Apparently, among other things, the museum's dinosaur bones are going to be displayed there. No doubt the dinosaurs will be powerfully reminded of their final moments as the asteroid smashed into the Earth.